Mazars Online Assessment 2023
Mazars Graduate Scheme
Mazars offers consulting, advising, tax, and auditing services around the world.
Mazars cares about a fair and prosperous world by contributing to the success of its people and clients, the health of financial markets, and the integrity of the profession.
The Mazars Graduate Program offers candidates the opportunity to rotate through different departments within the company, gaining exposure to a variety of accounting and finance functions.
The program lasts for 2 years, and upon completion, graduates will be equipped with the skills and knowledge to become fully-fledged accountants.
It is important to note that the exact details of the graduate scheme may vary depending on the specific needs of the company and the candidate's area of study.
However, the overall aim of the program is to provide comprehensive training and support to help graduates succeed in their careers at Mazars.
in this article, I will explain the Mazars online assessment process to help you to pass on to the next stage of the application process.
Get all the Mazars questions here
Mazars Application Process
The Mazers Graduate Scheme online  application process consists of four stages
Online application: standard application requiring personal and academic details as well as motivation and demonstration of critical skills and requirements
Mazars Online aptitude assessment: The Mazars online tests are provided by Cappfinity and include a series of emails, articles, meeting notes, graphs, and tables
The test includes situational judgment questions, numerical reasoning questions, and finally verbal reasoning questions. you will receive a report after the test to outline your strengths and weaknesses from the online test
Mazars video interview/telephone interview: this part of the application assesses your soft skills and checks that you are who you say you are
Assessment center: an assessment center will be conducted virtually and it will be a half-day exercise between you and other candidates assessing your technical and professional skills  
In this article we will focus on the Mazars Online Assessment, providing example practice questions and the actual test questions with the answers for a small fee.
Mazars Online aptitude assessment
Within the online test, there are 5 sections, working with exciting clients, supporting each other, sharing success, reflecting on the project, and working with numbers.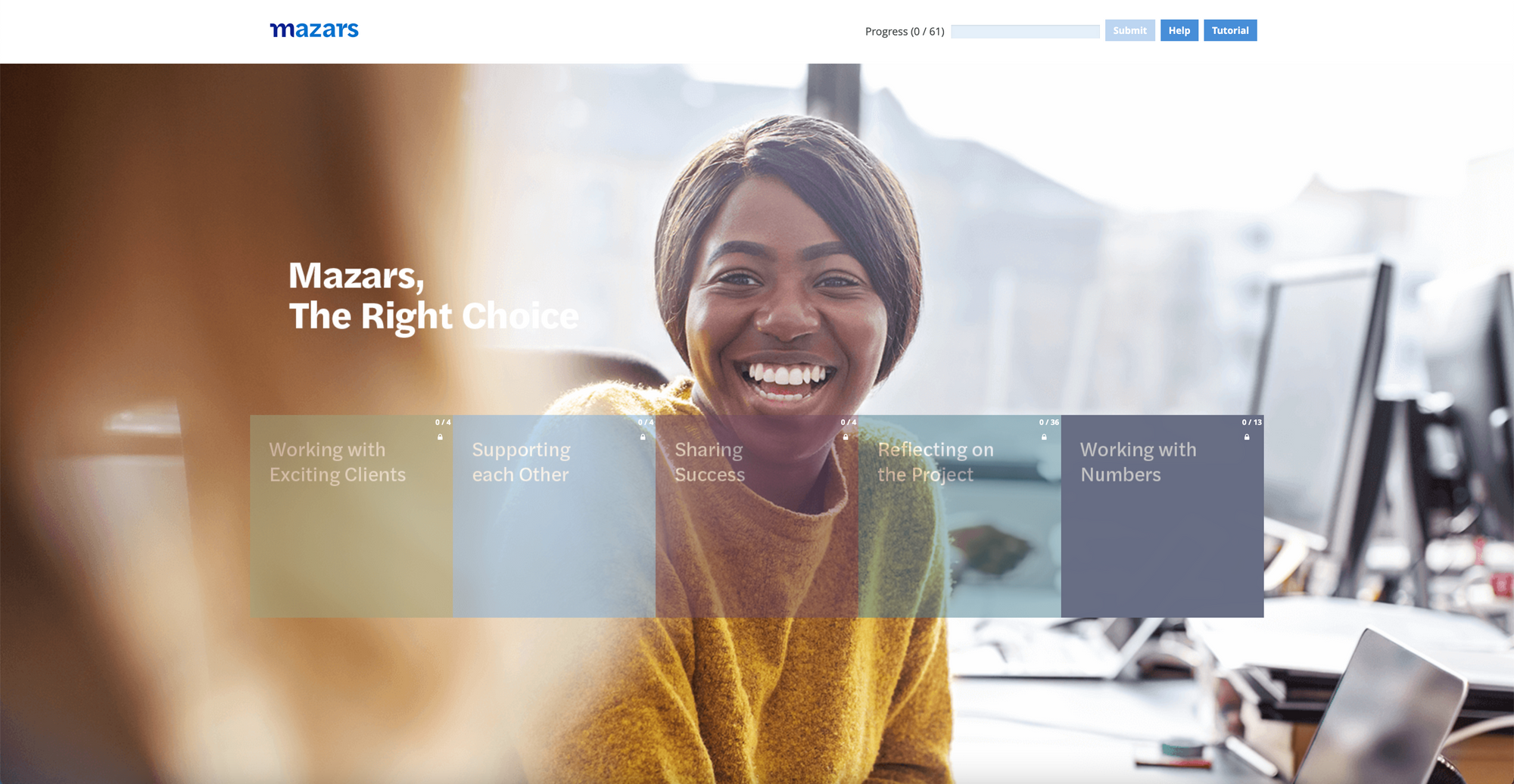 Mazars Online Assessment
Mazars Situational Judgement Test
Mazars Behavourial Personality Test
Mazars Numerical Reasoning Test
Below are three examples of sample questions from the Mazars Online Assessment.
Mazars Situational Judgement Test Practice Question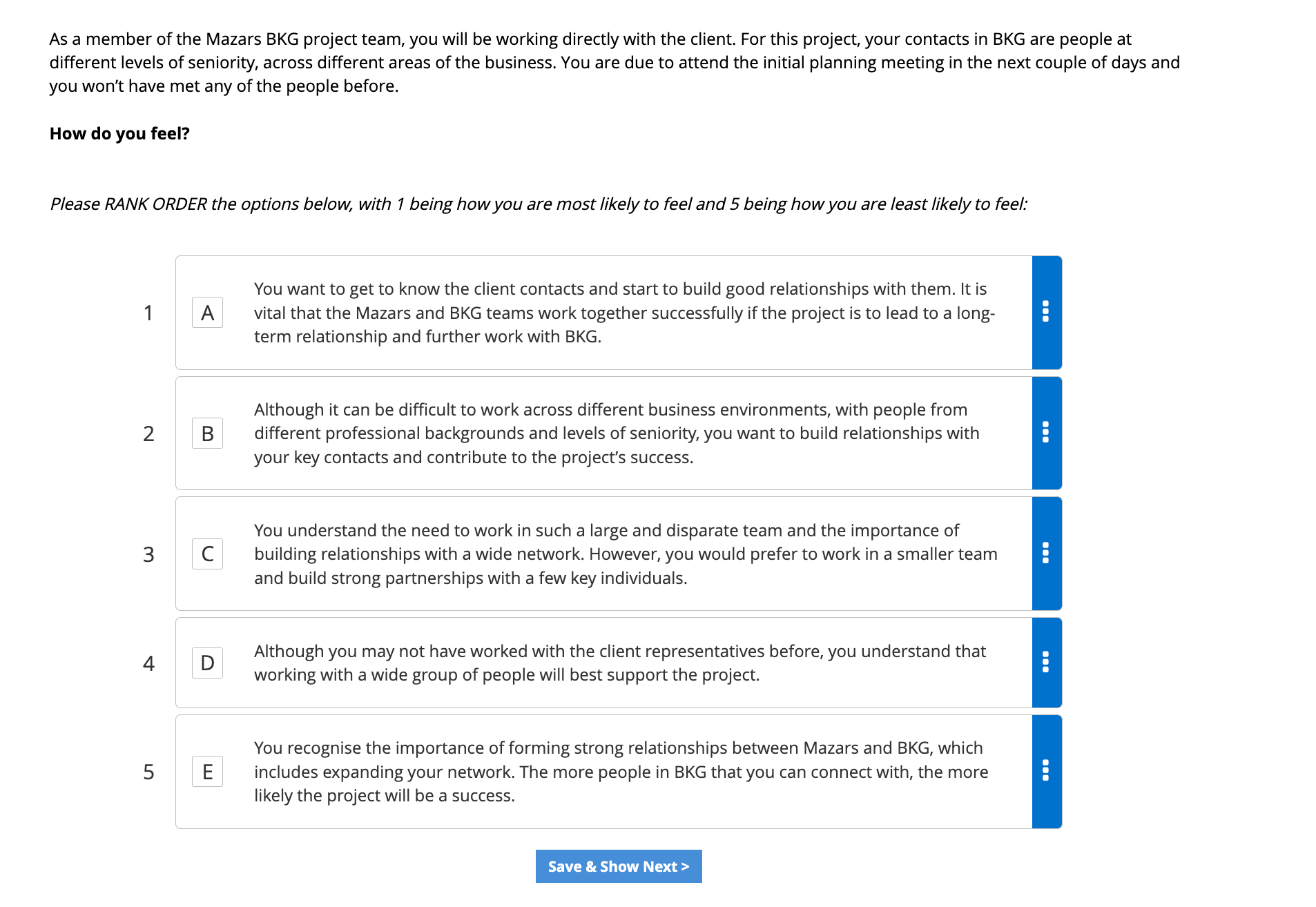 Mazars Situational Judgement Test Practice Answers
You want to get to know the client contacts and start to build good relationships with them.
Although it can be difficult to work across different business environments, with people from different professional backgrounds and levels of seniority, you want to build relationships with your key contacts and contribute to the project's success.
You recognise the importance of forming strong relationships between Mazars and BKG, which includes expanding your network.
You understand the need to work in such a large and disparate team and the importance of building relationships with a wide network.
You would prefer to work in a smaller team and build strong partnerships with a few key individuals.
Mazars Behavourial Personality Test Sample Questions

Question 1 Explained
It is more important for graduate students to set themselves stretching but achievable goals.
This shows a balance of ambition and realistic expectations, which aligns with the values of accountability and excellence at Mazars.
Setting incredibly challenging goals without proper planning and execution can be seen as unrealistic and potentially detrimental to their own and the team's success.
Question 2 Explained
The preferred approach to solving problems that align with Mazars values and culture is conducting a thorough review of the available data.
This approach showcases a commitment to being methodical, accurate, and objective, which are values that are integral to the success of Mazars projects.
Drawing on one's experience can be valuable, but relying solely on past experience can lead to potential biases and overlook important information.
A thorough review of the data ensures that all relevant information is taken into consideration, leading to better decisions and outcomes.
Mazars Numerical Reasoning Test Sample Questions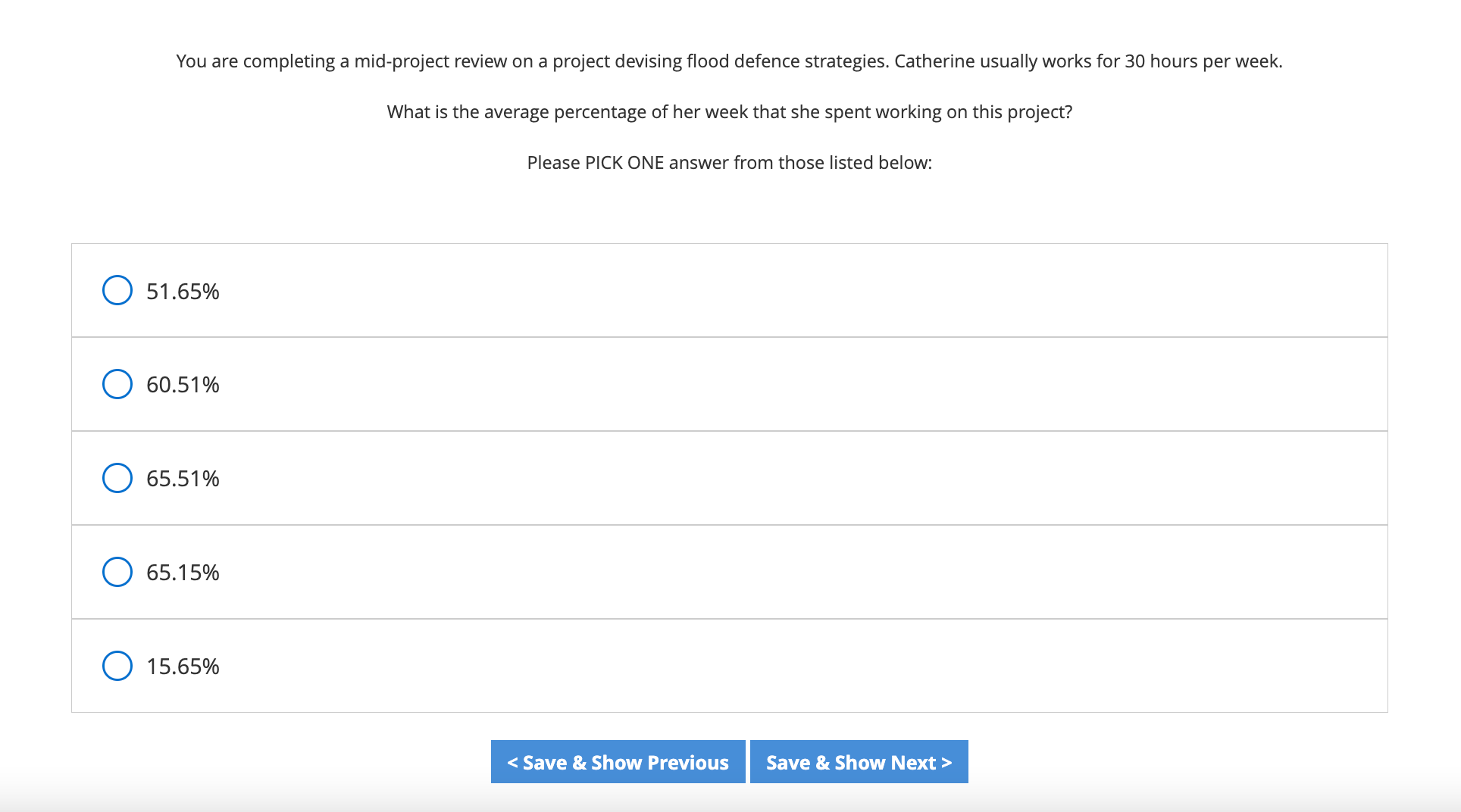 Mazars Numerical Reasoning Answers
To find the average percentage of Catherine's work week that she spent working on the project, we need to find the total number of hours she worked on the project and divide it by her typical work week of 30 hours.
First, we find the total number of hours she worked on the project:
Week 1: 17.5 hours
Week 2: 21.66 hours
Week 3: 19.8 hours Total: 58.96 hours
Then, we divide the total number of hours worked on the project by Catherine's typical work week: 58.96 hours ÷ 30 hours/week = 1.965 or 1.97 (rounded to two decimal places)
The answer, expressed as a percentage, is: 1.97 x 100% = 197%
So, the average percentage of Catherine's week that she spent working on the project is approximately: 197% /3 = 65.15%