KPMG Transforming Small Businesses Online Assessment 2023
The KPMG Graduate Program is a virtual application process, with five different stages all conducted virtually, The five stages are as follows:
KPMG application process
Stage 1: Your application,
Stage 2: Transforming Small Businesses,
Stage 3: Delivering Outcomes,
Stage 4: Critical Thinker
Stage 5: Virtual LaunchPad
In this article, we will dive into more detail about the second stage of the application process the Transforming Small Businesses part.
You can purchase the full actual set of KPMG questions here to practice on
Transforming Small Business Online Assessment
KPMG assessment consists of 28 questions in total, with a blend of situational judgment tests, numerical reasoning tests and critical thinking questions
The majority of the questions are situational based and you are required to rank the order of the scenario options from most likely to least likely.
The purpose of the KPMG online test scenario is to understand your behaviours and personality during challenging situations when working at the firm
The cognitive questions contain information in the form of videos, articles, voicemails to charts and graphs as well as business emails and teams meetings
The scenarios reflect a normal working day at KPMG and the narrative is fictional but similar to what you might experience as a KPMG employee.
You will have 5 days to complete the test and it is untimed however 90 minutes is recommended.
You will receive a Strength Report after this part of the assessment. With tips and practical advice, this will show your top two strengths as well as your weaker abilities to improve upon.
There is no correlation between the personalized report and the assessment; however, it may be useful to show you how you can improve your weaknesses.
If your first assessment is successful, you will be invited to take the second round of KPMG Interviews.
KPMG aptitude test questions free pdf
Below is a screenshot of the actual KPMG online assessment question, it is regarding a real-life work scenario where you have to make a decision based on the information provided
You can't prepare for the question but the best advice is to be pragmatic and professional, it is important to align your responses to the KPMG core values
The majority of the KPGM online assessment is in the form shown below, buy the full test here and see the full list of questions.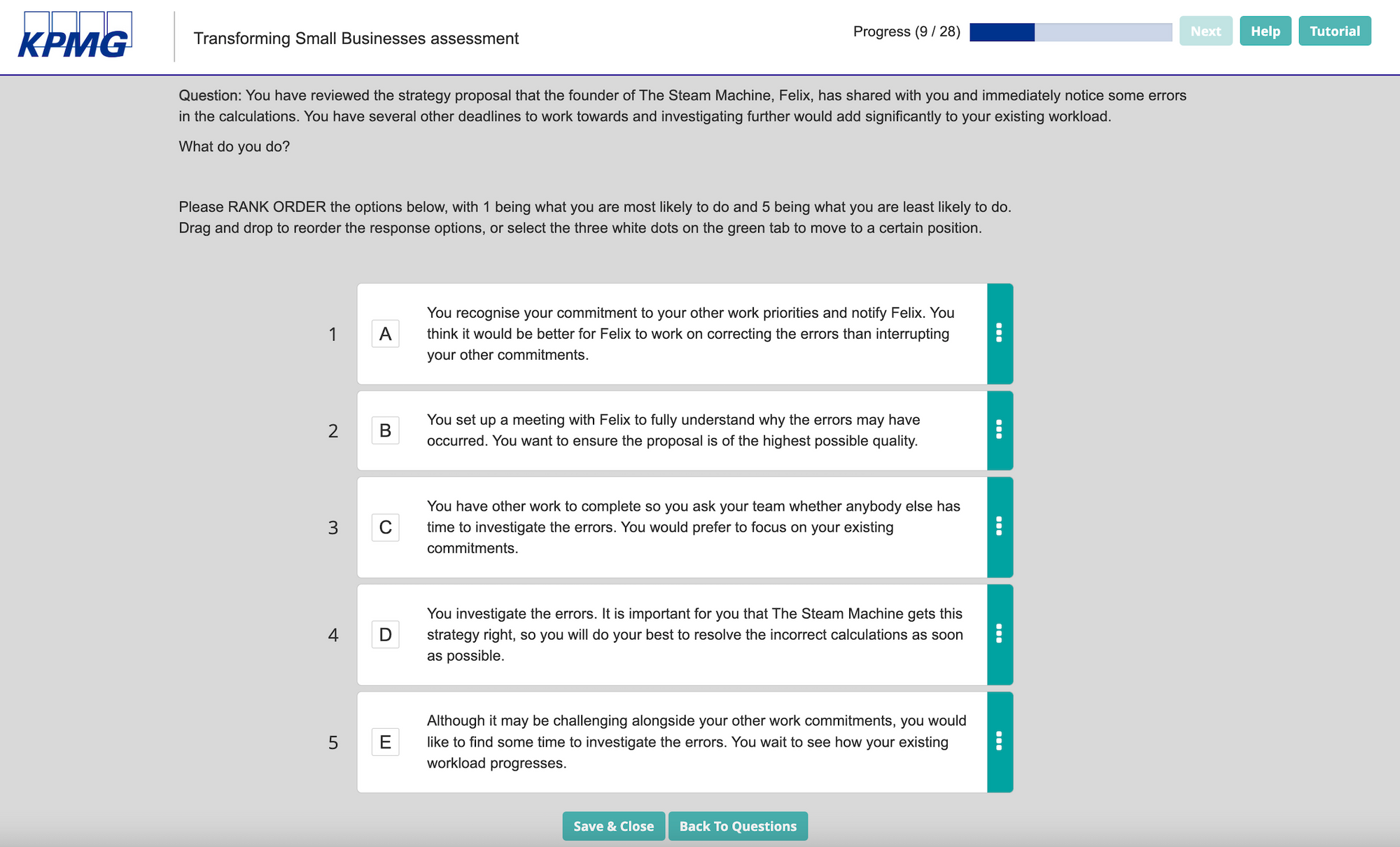 KPMG Online test sample question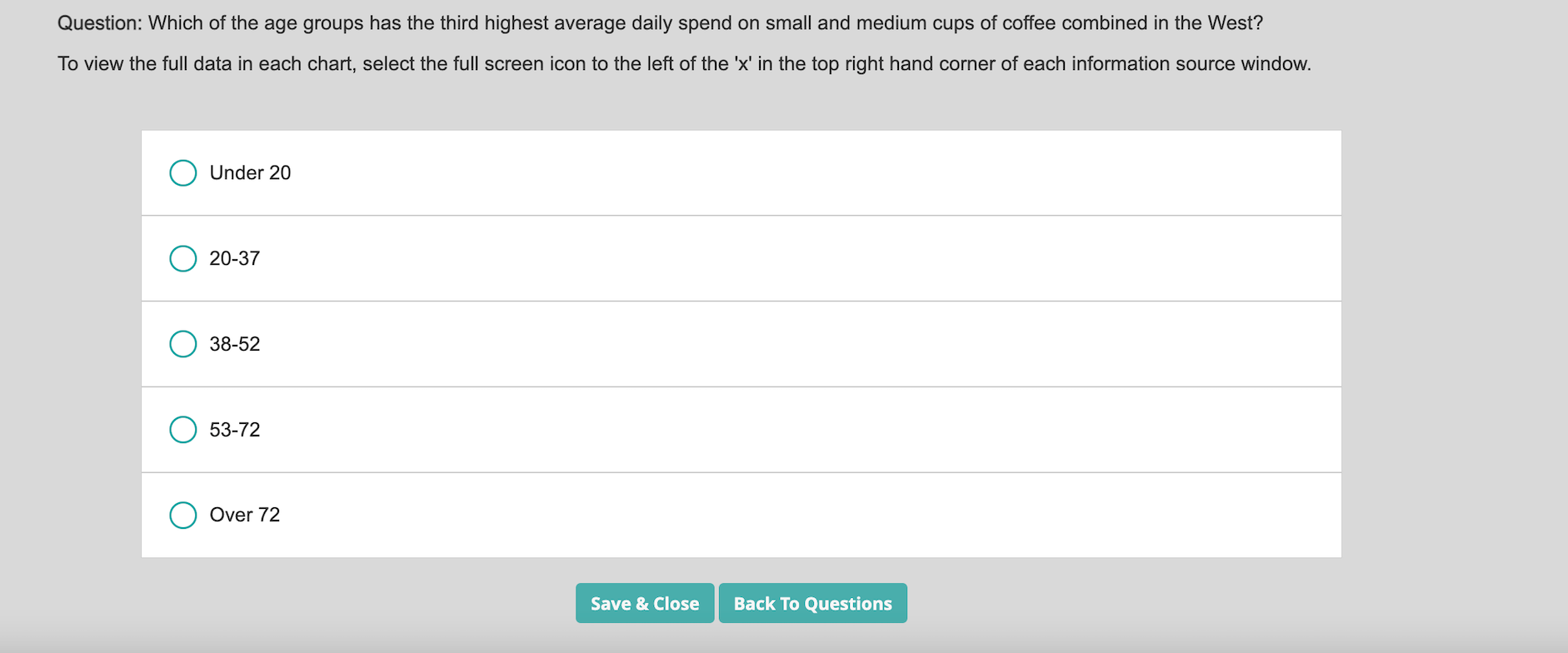 The KPMG free pdf question below is a numerical reasoning test example, which is designed to assess your critical numeracy skills, BUY THE FULL ASSESSMENT HERE
KPMG behavioural capabilities
Career Motivation
Delivers Quality
Drives Collaboration and Inclusion
Strives for Continual Improvement
Exercises Professional Judgement
Makes an Impact
Seizes Business Opportunities
Demonstrates Innovation and Curiosity
Resilience
What does KPMG look for in graduates?
Demonstrating interest through social activities and linking your past experience to the role and KPMG company values shows your motivation for the role
It is import top show your professional communication, teamwork, and problem-solving skills.
If you are applying to KPMG graduate jobs, you might also want to do some research on the KPMG core values and how they are important to you
KPMG core values
The core KPMG values dictate how KPMG employees behave on a day to day basis.
The core values at KPMG inform the decisions and the work carried out at the firm by the employees.
Working with each other or with clients, companies and all the stakeholders is the bread and butter of KPMG business so its important to apply these principles when working.
Integrity: We do what is right.
Excellence: We never stop learning and improving.
Courage: We think and act boldly.
Together: We respect each other and draw strength from our differences.
For Better: We do what matters.
Get the real KPMG Transforming Small Businesses Online Assessment Right Here