HSBC Immersive Online Assessment 2023
HSBC Online Immersive Assessment 2023

The HSBC online Immersive Assessment aims to gather objective information about you to aid in the selection process.
The HSBC online test covers specific behaviours, HSBC core values, and your technical ability through assessment of numerical reasoning and critical analysis of information.
The assessment involves you as a graduate immersed in the daily professional life of an HSBC graduate employee. There are certain challenges and tasks you must complete to succeed.
The online aptitude HSBC assessment is not timed however it is recommended to complete the test in one set of 50 minutes
At Aptitudeprep, our HSBC Immersive assessment includes the complete set of questions covering all the HSBC behavioural and cognitive tests: Get the complete question set here
What is HSBC Immersive Online Assessment?

The online assessment HSBC tests you on is broken down into five categories,
Creating a new team - 4 situational judgment questions
Working with others - 4 situational judgment questions
Communicating globally - 10 cognitive (numerical, verbal, and inductive reasoning) and a few situational judgment questions
Competing commitments - 9 cognitive (numerical, verbal, and inductive reasoning) and a few situational judgment questions
Completing the project delivery - 11 situational judgment and personality questions
HSBC Immersive Assessment Structure
In total there are 38 questions on the HSBC Online Immersive Assessment. The questions are broken down into technical and behavioral sub-sections.
16 questions cover the technical side of the online assessment such as numerical and logical reasoning.
The other 22 questions cover the core HSBC values in the form of situational judgment questions, which aim to test your personality and culture fit within HSBC.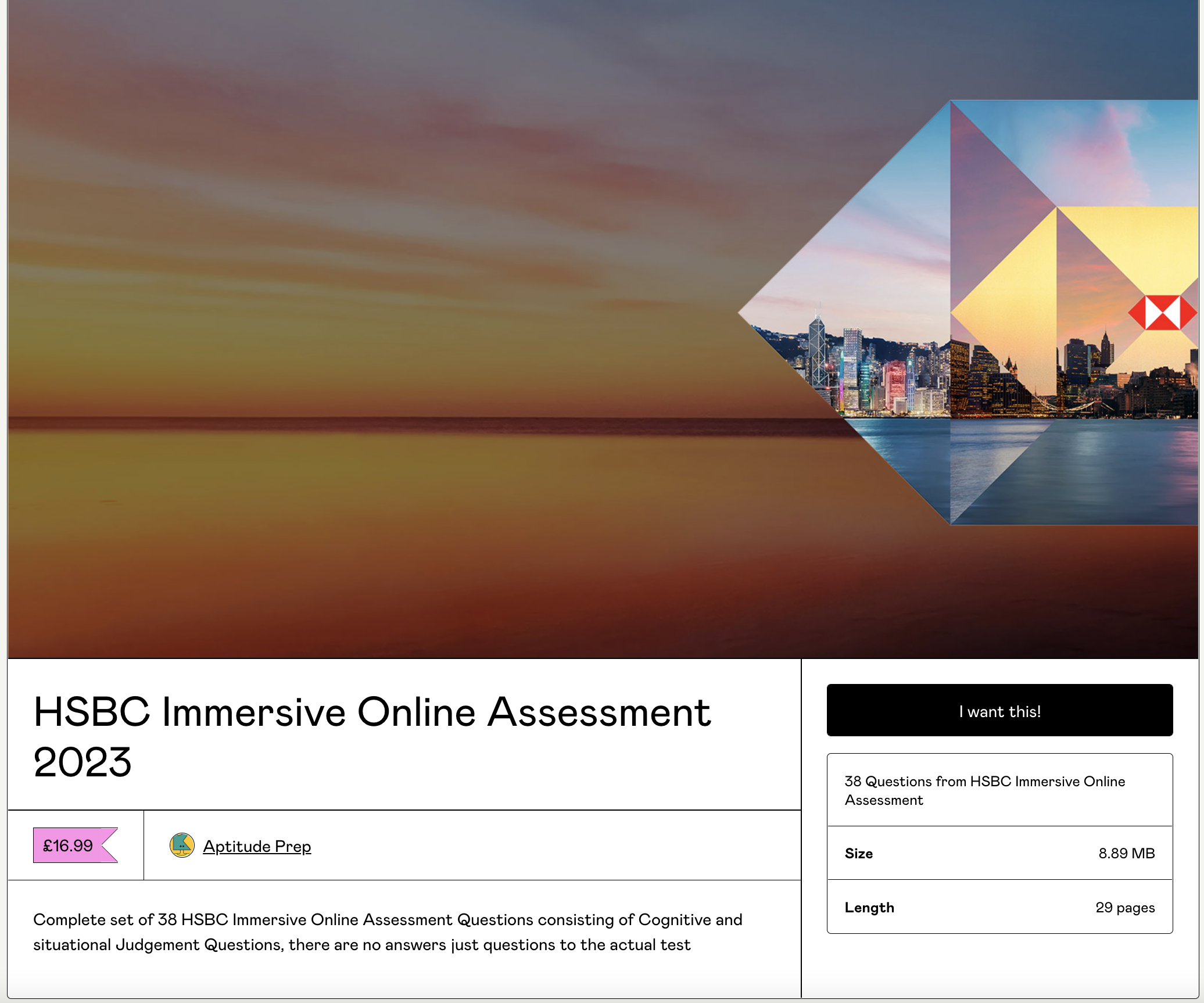 HSBC online assessment application Structure and Content
Assessment 1: Creating a new team: Building professional relationships to work effectively in a new team
Theme – As you work on different projects at HSBC, you will need to collaborate with colleagues from different areas of the bank.
Question Type – How do you feel about working with a global project team, and why?
Question Format – please rank order the options below, with 1 being how you are most likely to decide and 5 being how you are least likely to decide
Number of Questions – 4
Behaviors Assessessed - Teamwork, culture fit with HSBC Employees, making informed decisions
Assessment 2: Working with others: Considering other ideas and effective cooperation in a team, taking on suggestions, and producing a positive outcome shared by the team
Theme - you have been working on a project for several weeks, a new member Kieran who recently joined HSBC has other suggestions and found flaws in your work
Question Type - How do you incorporate Kieran's feedback?
Question Format – please RANK ORDER the options below, with 1 being how you are most likely to decide and 5 being how you are least likely to decide
Number of Questions – 4
Assessed ability - Conflict resolution, shared goals, and agreement, effective communication with others in a team, balancing ideas and suggestions and incorporating everyone on a shared goal.
Assessment 3: Communicating Globally
Theme –  working with others globally
Question Type – analyze graphs, charts, and tables as well as read an email correspondence to question you on numerical reasoning and situational judgment questions
Question Format – 1 table chart, 2 graphs, 1 pie chart, and an email correspondence from a colleague
Number of Questions – 10 (8 cognitive, 2 situational).
Assessessed ability - numerical analysis of visual information, behavioral judgment
Assessment 4: Competing commitments
Theme – You are working on several small side projects alongside your main project.
Question Type – only one question is situational judgment the rest is mostly cognitive.
Question Format –2 charts, 2 tables with numerical data, a pie chart and a passage, multiple-choice questions or free text questions.
Number of Questions – 9 (8 cognitive, 1 situational).
Assessessed ability  - numerical and verbal data interpretation
Assessment 5: Completing the project delivery
Theme: For the past few days, you have been creating a report which summarises the app features and implementation plans. You have a strict deadline for completing the report in three days' time, and you need to spend the next day working on the most challenging part.
Question Type: Personality profiling and Situational judgment
Question Format:  scenario-based with five optional responses. Situational judgment questions require ranking responses from 1 to 5
Number of Questions: 3 situational judgment, 8 scenario-based
Assessed ability: Personal responsibility, time management, prioritization skills, and ownership of projects.


How do I pass HSBC Immersive Assessment?

When it comes to the HSBC immersive assessment preparation is key, this guide will offer you sample questions and the question format expected from the online assessment.
The key is to be comfortable and confident when taking the test and to be like that you have to practice and get used to sitting the tests.
Below is a sample of questions to practice with which have been adapted from the Deloitte immersive online assessment.
Understand the question format and the aim of the assessor, most companies want to see you fit the culture at the company, these include being a team player, and problem solver and making the right decisions to get the best outcomes
You have to develop deep technical analysis skills, especially for technical roles like engineering or IT, to demonstrate this you must do well in your studies but also in the online assessments the best way is to practice the questions beforehand I guarantee you'll pass every time
Writing reports and emails is a skill in uni you will have had plenty of practice writing essays and reports but in the professional world email correspondence is key especially when teams are global and there are a variety of different people so get good at writing emails and communicating effectively, during the online assessment there will be a number of different email passages that you must interpret and digest
Developing your communication skills is a marathon, not a race speaking writing reading and listing are important no matter what role or sector you work in be aware of this throughout your career and you'll do great, again more practice with online tests the better
It is crucial for you to become comfortable with talking to the camera before you answer the first question of the assessment. You will feel awkward at first, and watching your first attempt may make you cringe, but practice does make perfect. Get into the rhythm of talking about yourself to a camera by filming yourself and answering interview questions. By assessment day, it will feel like second nature.

How to Prepare for the HSBC online assessment test top tips
The HSBC online assessment test consists of two types of assessments,
Cognitive questions
Situational judgment questions
Sample HSBC immersive online test below, these are adapted from the actual HSBC questions
HSBC Online Assessment Cognitive Sample Question
Data Source
Question to work out
Cognitive questions on the HSBC Assessment include consisting of visual information in the form of charts, graphs, tables, and email scripts.
You are assessed on your interpretation of this data to come up with accurate and fast conclusions.
Examples of tasks include finding trends and correlations between two pieces of data such as a graph and a table that overall make sense but individually are not effective.
Most of the questions on tests 3 and 4 (Communicating Globally and Competing Commitments) are cognitive in nature.
To answer these questions correctly, several data sources must be integrated, a challenge not usually present on other cognitive tests.

HSBC Online Immersive Assessment Situational Sample Question

You have to be familiar with the core HSBC values more on this here
The Situational Judgment Questions are assessed throughout the HSBC Online Immersive Assessment from sections 1,2 and 5, however, section 5 is more about personal profiling than situational behavior.
You are asked to self-report your preferences and traits when taking personality profiling questions.
You can place your preference on a two-sided scale in the HSBC Online Job Simulation Assessment.
Frequently asked questions and top tips

Please get familiar with reading reports: data sources contain a large amount of numerical information and its best to skim-read and be familiar with the data
HSBC's Core Values: know what they are and how your personality fit with the core values at HSBC
These four core values are:
Succeeding together – trustworthy and supportive, able to communicate and collaborate with coworkers and clients.
Responsibility – committed to quality, takes accountability for results, always stands up for the right course of action.
We are getting it done – results-driven, thorough and ambitious. Able to make decisions, rise to a challenge, and take some risks.
Diversity – inclusive to others and able to take a broader perspective and approach.
3. Officially, the HSBC Online Immersive Assessment is not timed. According to the instructions, the assessment should take around 50 minutes to complete.
4. We suggest that you take a look at the Preparation Plus to help familiarize yourself with these types of written and numerical assessments so you know what to expect.

Cappfinity is the provider of the HSBC Online Assessment Test
Cappfinity, a leading provider of pre-employment assessments, has specifically tailored both sections of the HSBC Online Assessment (Immersive and Job Simulation).
As a strength-based assessment company founded in 2005, Cappfinity focuses on both cognitive and behavioral assessments.
Providing assessments for the finance industry has replaced well-established providers in recent years. EY, Barclays, and KPMG are some of its clients (besides HSBC).