Grant Thornton Strengths Assessment (PRACTICE Free Sample Questions)
Grant Thornton Application Process
Get the full list of strengths assessment questions from Grant Thornton below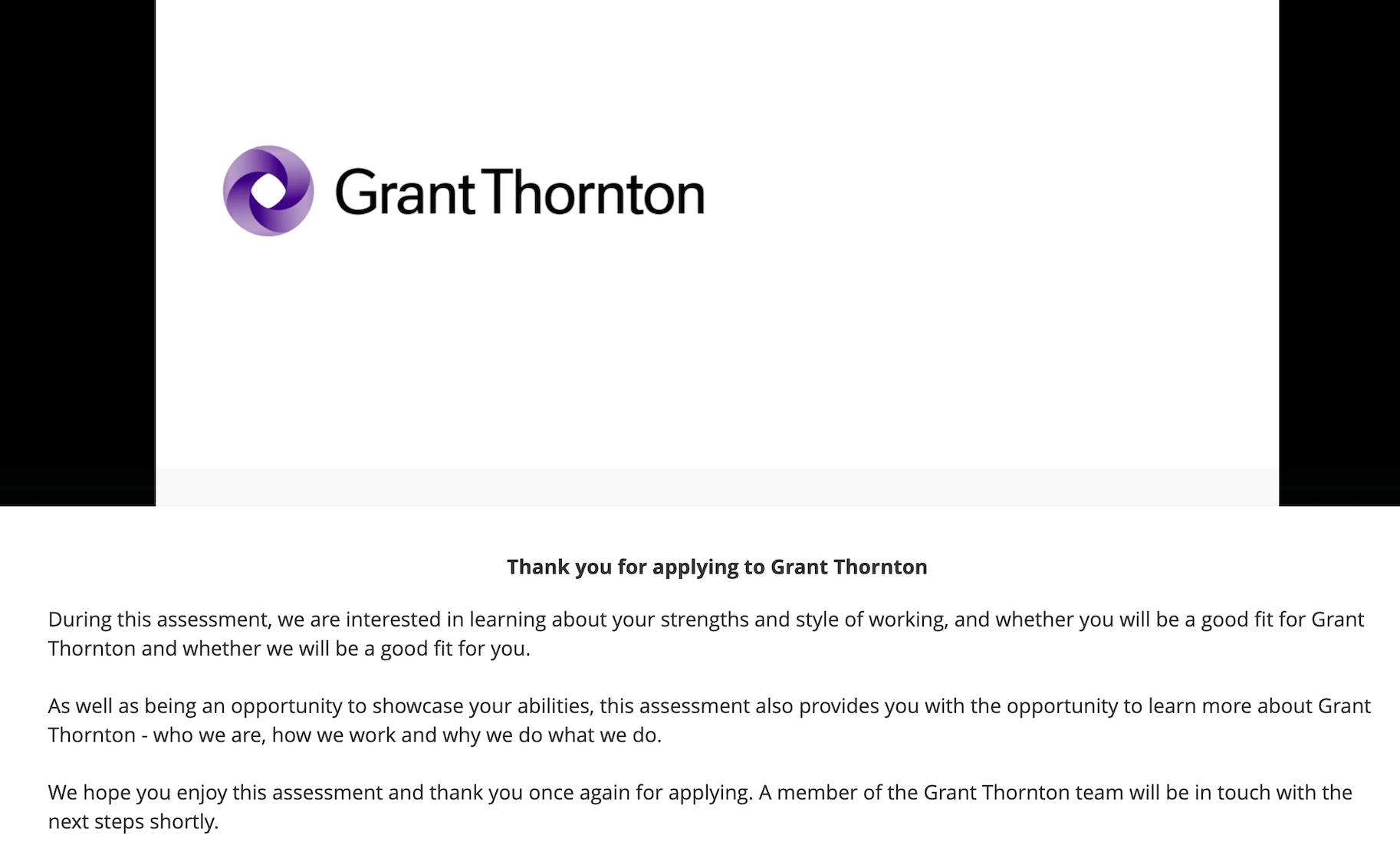 Do you wish to apply for the grant Thornton graduate scheme or other programs, well you have come to the right place in this guide you will learn all about the application process and what it takes to smash the online assessment part of the grant Thornton application. Example questions will be provided for practice and you can even purchase the full online assessment here.

The application process for grant Thornton is the same for all the school-leaver, undergraduate, and graduate programs.

There are 4 main sections to the application process:
Online Application Form
Digital Interview
Grant Thornton Experience Day

Online Application Form
Basic personal details will be asked of you such as your name address any relevant work experience and your degree subject. Your eligibility for the role will be quarried and for intentional students, visa requirements will have to be met for the UK graduate roles.
The company values missions and purpose will be questioned and it will be checked against your personal values and your general first to the company.
Important tip: highlight your strengths and show how it applies to the role and company mission for example have you demonstrated problem-solving skills whilst at university during a group project or critical thinking make sure to describe the situation and show how it applies to the role.
This is your opportunity to highlight your abilities and stand out from the crowd. Please refer to the company values and the strength-based criteria that the organization is seeking when considering candidates.
If you wish to provide any details regarding extenuating circumstances, this is the time. Interested candidates should email traineerecruitment@uk.gt.com the information and supporting documentation so that it can be assessed with your application.
About 30 minutes should be required to complete the form. Whenever you wish, you can save your progress and come back to it later. However, please keep in mind that recruitment runs on a rolling basis - so the sooner you finish this step, the better.
Online Strengths Assessment
grant Thornton strengths assessment created by Cappfinity who are specialists in strengths and potential-based recruitment
The Online Strengths Assessment is combined with situational judgment and cognitive testing (numerical reasoning and critical thinking)
Example tests for both the situational strengths and numerical reasoning are shown below, the full list of questions for 2022 can be purchased here
The test is designed to show a realistic view of work-life at Grant Thornton
Based on realistic scenario-based questions, the test evaluates your typical reactions, feelings, or behaviors.
A case study of information will also be used to test your written and numerical skills as part of the Grant Thornton Tests
You will receive a personalized report at the end of your assessment, informing you of your strengths and how you may use them in the future.
The trainee recruitment team can answer any questions you have about the assessment.

Grant Thornton Technical Skills
Situational Judgement
The scenarios presented here are realistic. We will ask you to rate a choice of responses in the order you think is most effective or choose the most appropriate response. Example grant Thornton question below:
Critical Reasoning
Reasoning and making objective decisions are measured in this section. These skills will help us determine how well we can solve problems and make decisions. Question example for grant Thornton is shown below:
Numerical Reasoning
This is an assessment of your ability to handle numbers efficiently and accurately. You will be evaluated on how well you understand ratios, percentages, number sequences, data interpretation, financial analysis, and currency conversion. Basic GCSE maths is important for this section, below is a free grant Thornton online assessment practice question:
Written Reasoning
You will be tested on your ability to comprehend written information. Your ability to read, reason, and comprehend language will also be tested through questions. An example of a free grant Thornton question is shown below:
Top tips for grant Thornton online assessment
Practice free grant Thornton questions on Aptitudeprep they are the same question you will get on the online assessment the full list of questions for 2022 can be purchased here
Cappfinity is the test provider for grant Thornton - free practice questions can be found here
Make sure to ask questions to your recruiter
Get away from distractions and find a quiet place to complete your assessment
Understand the instructions - sometimes you can't return to questions once answered and make sure to complete the questions promptly and accurately
Stay focused and be confident don't overthink it and be aware of your progress

Digital Interview
The third stage of the application process is a series of pre-recorded video interview questions. The nature of the questions is mostly motivational about the organization and your desire to join the company.
You will record your responses to these questions via a camera on your device. This is common amongst graduate recruiters to weed out candidates who don't seem like a good fit.
Before the assessment, you will be contacted by a member of the graduate recruitment team at grant Thornton going through the digital interview process and give you hints and tips on to best prepare.
Example questions for the pre-recorded interview are shown below:
Why have you applied for this role?
Why Grant Thornton?
What inspires you about the company?
What are your expectations for the program?
What unique qualities would you bring to Grant Thornton?
Describe your most valuable learning experience.
How would others describe you?
This pre-recorded digital interview is to determine if the candidate fits the company's culture. You can be confident in knowing that you have the key skills for this position if you have already passed the strengths assessment stage.
Use this opportunity to demonstrate your commercial awareness of the company and its goals and mission. Do your research about the organization, understand its key values, and include these in your answers.
The second part of the digital interview assesses your case study skills and how you would approach solving it. You must compile a report on how you would resolve the scenario-based situation of your chosen field.
Make sure to include any hypothetical advice to clients. This exercise is designed to replicate the work you will be doing if you're accepted onto the program.
The time to complete the digital interview should take 40 minutes in total and you will have seven days to complete the interview from the day you receive the invitation link. Again, all applicants will be contacted after the assessment and provided with feedback.
Grant Thornton Experience Day
Successful candidates will be notified within five days of submitting their digital interview and will be invited to the final stage of evaluation - the Grant Thornton Experience Day.
A face-to-face interview, a group exercise, and lunch are included in these half-day events, as well as the opportunity to network with other applicants and Grant Thornton professionals.
The experience day's interview segment will focus on your expertise, motivations, and potential. It's critical that you can show that you understand your chosen business area and how it adds to Grant Thornton's and its clients' overall performance.
Make sure you understand the present atmosphere and the problems it poses, and that you can clearly communicate how your values connect with Grant Thornton's. Discuss what intrigues you about your placement possibility with zeal.
You will collaborate with other applicants on relevant and real-world challenges influencing Grant Thornton during the group exercise. You might be asked to have a group discussion and then produce a brief presentation.
Your teamwork, communication, and problem-solving skills will be evaluated rather than your in-depth understanding of the issue.
Final thoughts
Trainee recruitment at Grant Thornton provides the opportunity for applicants at every stage of their education for a chance to be considered.
It provides graduates and school leavers with the option to work in all positions from qualified business advisors to consultants while acquiring real-world experience.
Understanding the company culture and basic beliefs is critical to a successful application.
You must demonstrate how your own personal values make you an ideal candidate dedicated to getting the most out of your trainee experience.