The Financial Conduct Authority (FCA) is responsible for the regulation and integrity of all financial businesses in the UK.
based in London FCA's role is to protect the customer through fair competition, promoting healthy finance objectives, and keeping the industry stable.  
The FCA collaborates with the Prudential Regulation Authority to enforce regulations and monitor compliance across the 50,000 businesses and 48,000 firms it regulates.
The FCA Graduate Scheme provides early career seekers a breadth of programs that focus on Authorisations to Policy, Supervision to Enforcement, Economics to Data, and Technology.
The FCA Graduate Application process consists of 5 stages, and in this article, we will focus on the FCA Online Test
The FCA Online Assessment is divided into 2 stages, FCA Situational Strengths Test and the FCA Numerical Reasoning Test.
The FCA Online tests are carried out by Cappfinity Assessments and In this article, I will break down what it takes to pass all the stages of the application process
💡
Get the Full List of the FCA Situational Strengths Test with the explained Answers Here
FCA Online Assessment
FCA Situational Strengths Test
FCA Phone Interview Questions
FCA Application Process Stages
FAQ's
Financial Conduct Authority Assessment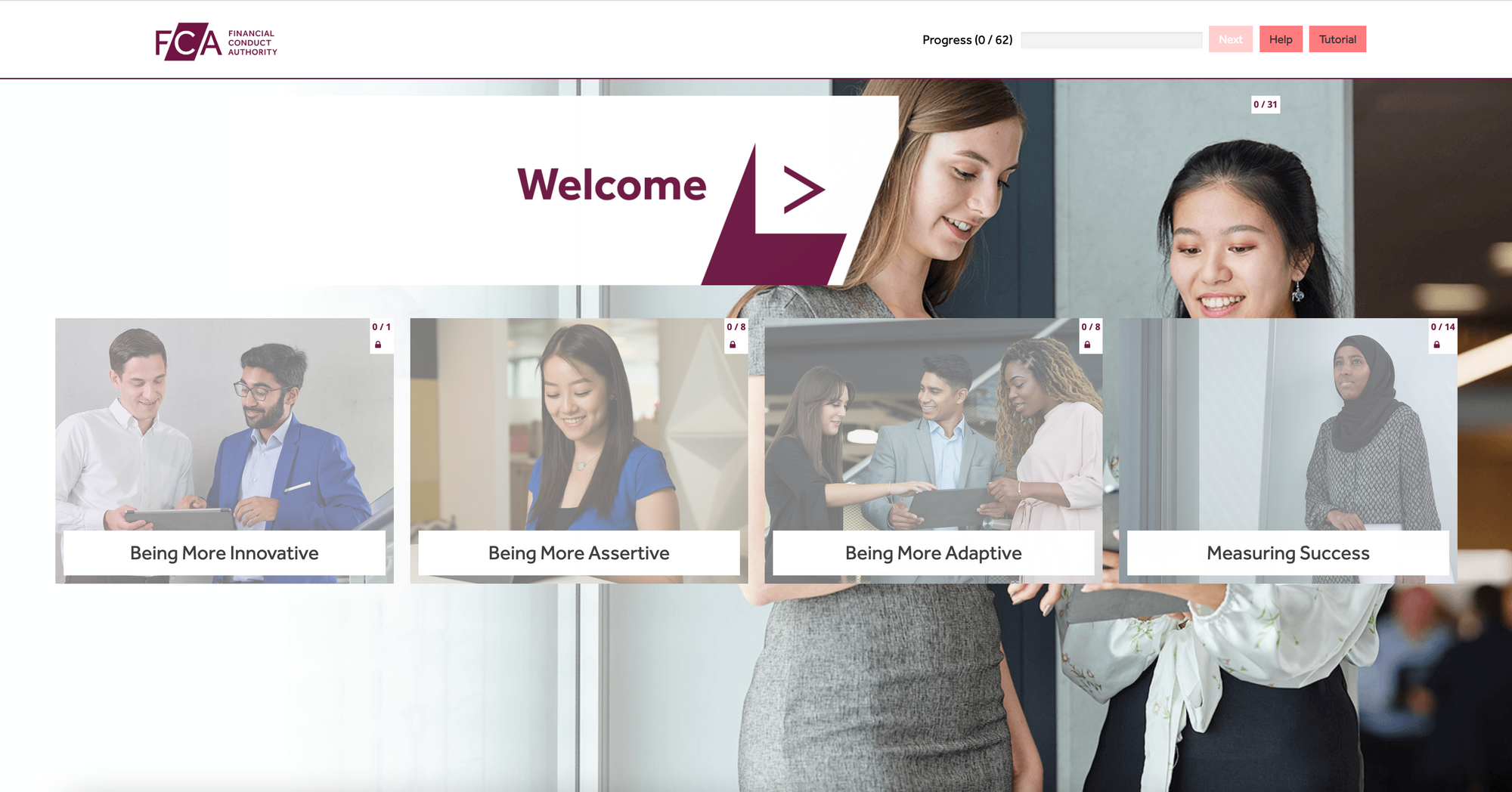 FCA Graduate Assessment: You will be presented with a variety of questions relevant to the requirements of a graduate at the FCA.
5 Different Tiles: You must complete five different tiles, with some taking longer to complete than others, the screenshot is shown above.
Short Tutorial: Before starting the assessment, watch a short tutorial to familiarize yourself with the process.
Untimed Assessment: The assessment is untimed, but it is recommended to allow 50 minutes to complete it.
Realistic Preview: The assessment is designed to give you a realistic preview of working at the FCA, though all scenarios, projects, data, and people mentioned are fictitious.
FCA Situational Strengths Test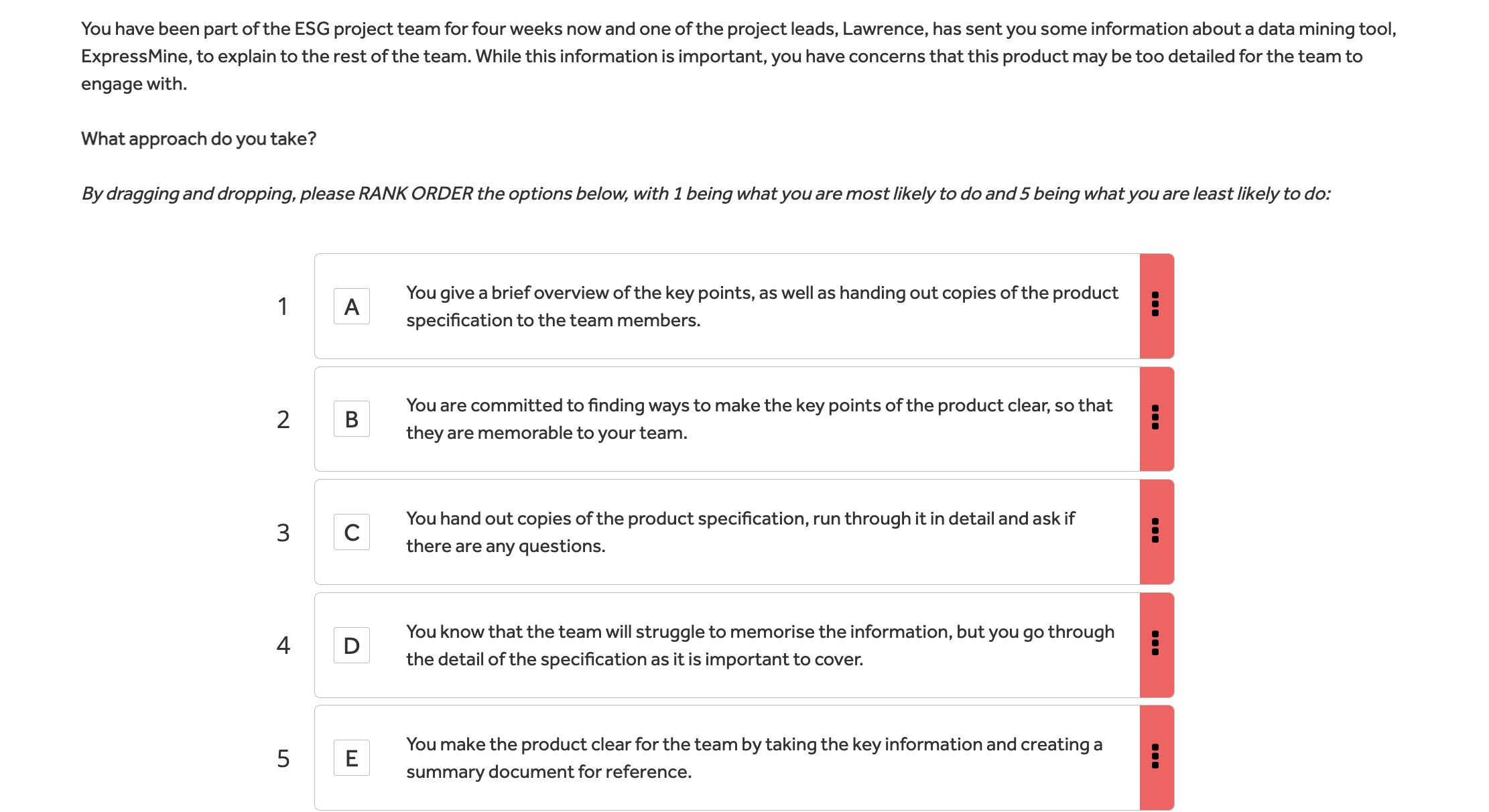 Situational Strengths Answers 1
You give a brief overview of the key points, as well as handing out copies of the product specification to the team members.
You make the product clear for the team by taking the key information and creating a summary document for reference.
You are committed to finding ways to make the key points of the product clear, so that they are memorable to your team.
You hand out copies of the product specification, run through it in detail and ask if there are any questions.
You know that the team will struggle to memorise the information, but you go through the detail of the specification as it is important to cover.
Situational Strengths Answers 2

It is more important to keep the information consistent across the whole audience when communicating an important message.
However, adapting the delivery to the needs of the different people listening can enhance their understanding and retention of the message.
FCA Numerical Reasoning Test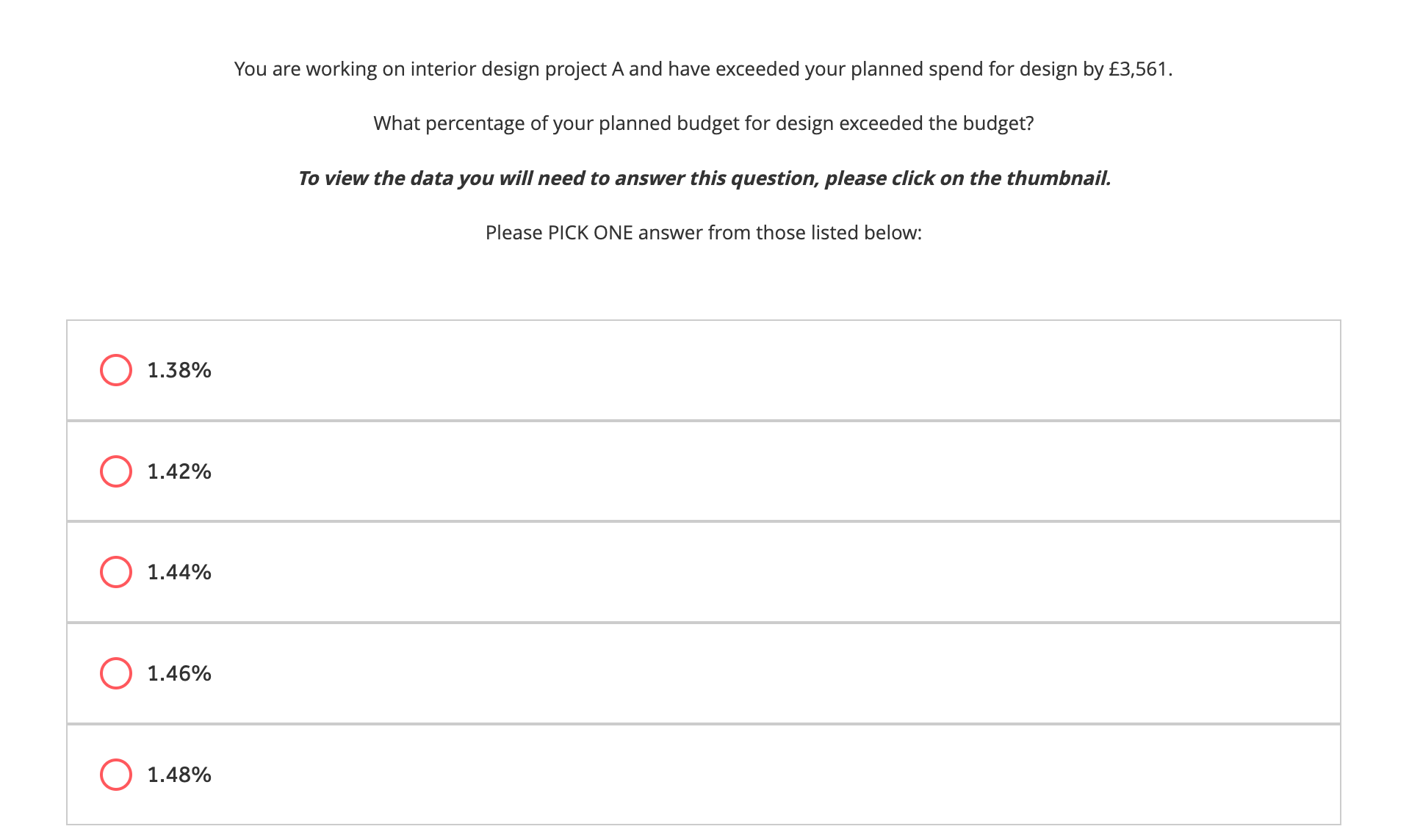 Numerical Reasoning Answers
To determine the percentage of the planned budget for a design that was exceeded, you need to divide the amount exceeded by the total planned budget for the design and multiply by 100.
Here, the planned budget for design is £750,000 * 32% = £240,000. And the amount exceeded is £3,561.
Therefore, the percentage exceeded is:
(£3,561 / £240,000) * 100 = 1.48%
So, the answer is 1.48%
FCA Phone Interview Questions (Sample Questions + Answers)
Why do you want to work for the FCA?
Impact on consumers: The FCA's mission is to protect consumers, enhance market integrity, and promote competition in the interests of consumers. Working for the FCA means making a real impact on the lives of consumers and contributing to a fair and transparent financial marketplace.
Professional growth: The FCA provides a dynamic and challenging work environment, offering opportunities for professional growth and development. Graduates can expect to work on high-profile projects and be part of a team dedicated to making a difference in the financial sector.
Focus on ethics: The FCA is committed to ethical and responsible business practices and encourages its employees to adhere to high standards of integrity and professionalism. This can be an attractive aspect for graduates who value working for organizations with strong ethical principles.
Collaborative culture: The FCA fosters a collaborative culture where employees from different backgrounds and expertise can work together to achieve common goals. This creates a supportive and inclusive work environment, where employees are encouraged to share their ideas and contribute to the success of the organization.
Dedication to diversity and inclusion: The FCA is committed to promoting diversity and inclusion in the workplace, and is dedicated to creating a working environment that values and respects all employees. This can be an attractive aspect for graduates who are looking to work for an organization that values and respects diversity.
In your opinion, what issues can the FCA face in the short and long term?
The Financial Conduct Authority (FCA) can face several issues in the short and long term, some of which include:
Short-term:
Managing the aftermath of the COVID-19 pandemic and its impact on the financial sector.
Monitoring the implementation of new regulations and ensuring compliance by regulated firms.
Addressing consumer protection concerns and managing consumer complaints.
Long-term:
Keeping pace with technological advancements and the increasing use of fintech, including issues related to cyber security.
Addressing systemic risks in the financial sector and promoting stability.
Balancing the interests of different stakeholders, including consumers, financial firms, and taxpayers.
Ensuring that regulation stays relevant and effective in an ever-changing financial landscape.
These are just some of the challenges the FCA may face, and the exact challenges will depend on a variety of factors, including economic conditions, market developments, and technological advancements.
Tell us about the most interesting media piece you've read about the FCA?
One notable piece was published in The Guardian in 2019, which discussed the FCA's efforts to address climate change risks in the financial sector. The article highlights how the FCA is taking a leading role in promoting sustainability and addressing the financial risks associated with climate change. The FCA has published guidance for firms on how to consider the financial risks of climate change and has emphasized the importance of companies disclosing the potential impact of climate change on their operations and financial performance.
This article is interesting as it highlights the FCA's role in promoting sustainability and addressing an important global issue, and demonstrates how regulatory bodies can play a crucial role in promoting responsible corporate behavior and addressing risks to the financial system.
FCA Application Process Stages
Stage 1
Submit Application Form

Discover Your Fit: Provide your contact information, education, and work experience to ensure you meet the entry requirements for your desired role.
Show Your Knowledge: Get ready to demonstrate your understanding of the FCA and your motivations for joining the company with thought-provoking questions.
Be Prepared: Brush up on the company's current objectives and key issues before filling out the application form to make a lasting impression.
Apply with Ease: Submit your application online for a streamlined and convenient process.
Stage 2
FCA Online Assessment

Test Your Skills: Take three online tests including a logical reasoning test, a numerical reasoning test, and a situational judgement test.
Share Your Story: Complete a questionnaire to delve deeper into your motivations for joining the FCA and showcase your background knowledge on the organization.
Express Your Interest: Use this as an opportunity to demonstrate your passion for the FCA's services and what sets you apart from other candidates.
Prepare Ahead: Keep in mind that the tests have strict time limits, so be sure to practice beforehand for optimal performance.
Stage 3
Motivational questionnaire

Answer Four Questions: Provide written responses to 4 motivational questions to demonstrate your motivation, drive, commercial acumen, and written communication skills.
Stay Within Limits: Remember to keep your answers within the 250 word limit per question and double-check for spelling and grammar errors before submitting.
Make the Most of It: Use the full word count to provide in-depth and detailed answers, as word counts are often a good indicator of the level of detail required.
Extension Available: If you need more time, an extension on the 5-day deadline can be provided. Just make sure to submit your answers before the overall deadline.
Get Support: If you need any support, reach out to EmployAbility for advice and assistance.
Stage 4
Telephone Interview

Telephone Interview: If you are successful in the testing stage, you will move on to a 30-minute telephone interview with the FCA.
Reiterate Your Qualifications: Use this opportunity to once again express why you believe you are well-suited for the job and how you can contribute to the organization.
Stage 5
Assessment Centre

Assessment Centre: The final stage of the selection process is the assessment centre, which assesses your skills and abilities through various exercises.
Case Study: Complete a case study to demonstrate your problem-solving and critical thinking skills.
Presentation: Give a presentation to showcase your communication and public speaking abilities.
Group Exercise: Take part in a group exercise to demonstrate your teamwork and collaboration skills.
Interview: Finally, participate in an interview to gauge your overall fit for the organization.
Offer of Employment: If you are successful at this stage, you will be given an offer of employment or a place in one of the FCA's internships.

.
Financial Conduct Authority (FCA) FAQ's
FCA assessment test answers:
What to expect in an FCA interview:
What are the forms of test by FCA: Candidates will then be asked to carry out three online tests; a logical reasoning test, a numerical reasoning test and a situational judgement test. Afterwards, candidates will be asked to complete a questionnaire to explain in more detail why they've applied for a position with the FCA.
Is it hard to get into FCA: People have reported that the interview at Financial Conduct Authority is medium in terms of difficulty. The interview process takes more than one month. People have rated the overall interview experience as favourable.