Arup Online Assessment 2024
15 Question-timed limited assessment answers are provided with full working solutions
Arup Situational Judgement Test:
Online application form and video interview
Numerical, logical, and situational reasoning tests
Assessment center with group exercises
Panel interviews with business leaders
Offer made to successful candidates
Arup Situational Judgement Test & Arup SJT
Assess the judgement required for the role
Rank or choose appropriate responses
Tests decision-making, ethics, safety
Scenarios assessing judgment and ethics
Read the situation, select the appropriate response
Makes ethical decisions under pressure
Aligns with Arup values and culture
Arup Numerical Reasoning:
Data interpretation and analysis
Tables, graphs, charts, basic calculations
Tests numerical logic and critical thinking
Calculator permitted, rough paper for working
Questions have a time limit
Arup Numerical reasoning questions and answers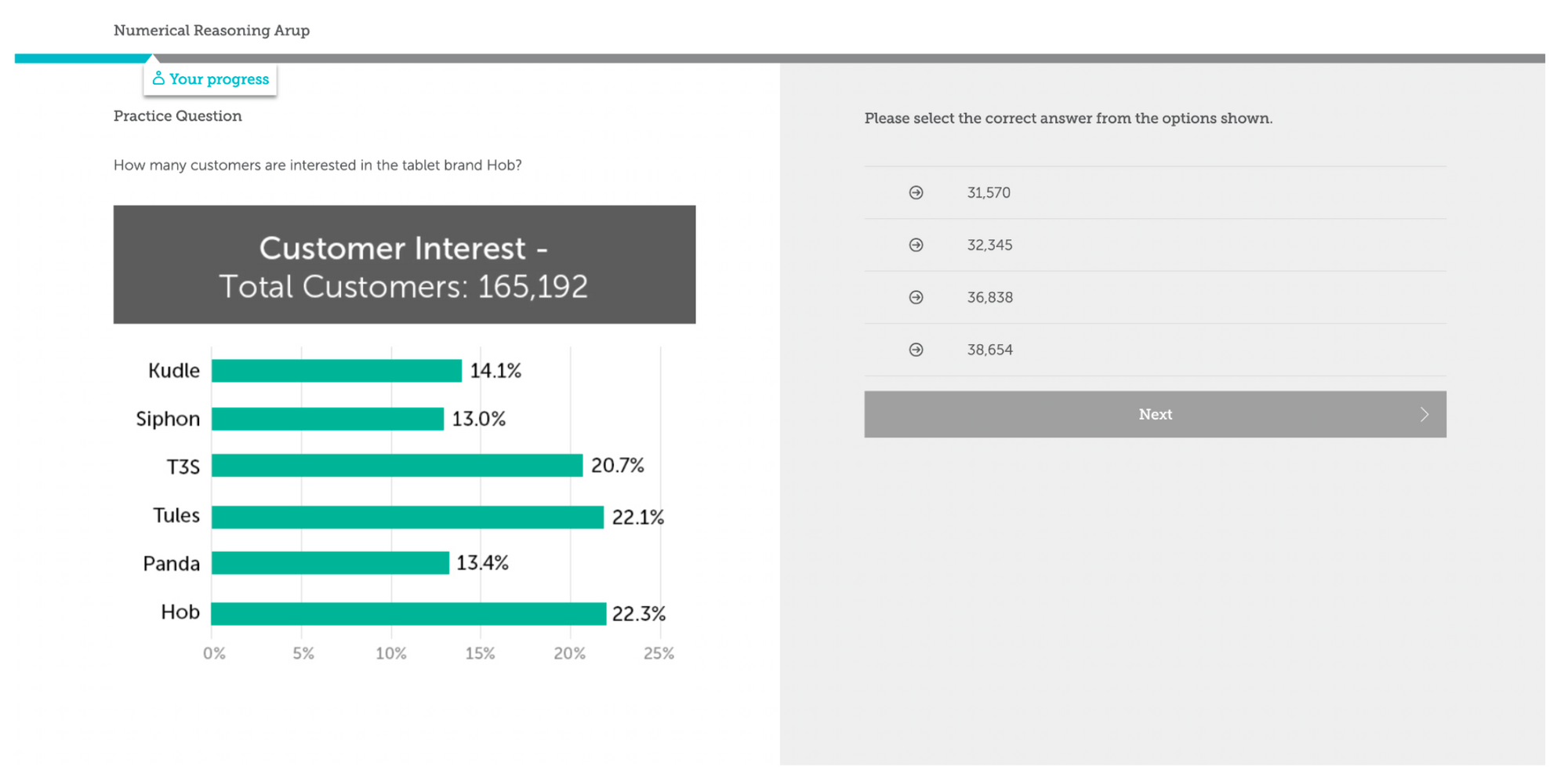 Total Customers: 165,192
Interest in Hob: 22.3%
To calculate the number of customers interested in Hob:
Hob interest: 22.3%
Convert to decimal: 0.223
Multiply by total customers: 0.223 * 165,192
Number interested in Hob: 36,909
Therefore, with Hob interest at 22.3%, the number of customers interested in the tablet brand Hob is 36,909.
Arup Logical Reasoning:
Evaluates problem-solving abilities
Identify patterns, trends, and inconsistencies
Diagrammatic and verbal logic puzzles
Assesses logical thinking and judgment
Questions have a time limit
Arup Interview Questions:
Why Arup? What interests you?
Describe a challenging engineering project
When have you shown leadership?
How do you prioritize when working on multiple projects?
Where do you see your career in 5 years?
Arup Sova Assessment multiple choice questions
Online psychometric test
Assesses problem-solving, critical thinking, innovation
Scenarios with multiple-choice responses
Measures strategic thinking and decision-making
Results inform later interview conversations